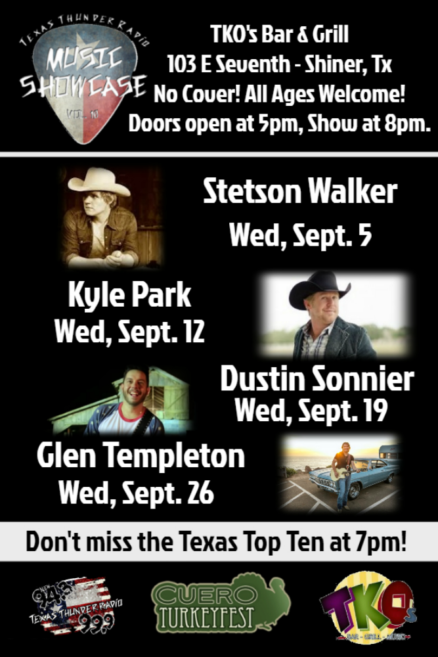 Stetson Walker | TTRMS
Date:

September 5, 2018

Time:

20:00

Location:

Shiner, TX

Venue:

TKO's Bar-Grill-Music – 103 E Seventh
We invite you to join us for the Texas Thunder Radio Music Showcase, at TKO's Bar and Grill, 103 East Seventh in Shiner. There's no cover charge. All ages are welcome. Doors open at 5:00pm, show begins at 8:00pm.
The #TTRMS live radio show is proudly brought to you by Cuero Turkeyfest, always the second weekend of October. For additional showcase and artist information visit the Texas Thunder Radio Music Showcase Page.
STETSON WALKER
Wednesday, September 5th – 8:00 PM
Stetson began playing at 11 years old in a 5th-grade talent show and performed "Folsom Prison Blues". He studied bluegrass music playing the mandolin and acoustic
guitar and started composing songs at the early age of 14. Stetson opened for Tracy Byrd
when he was 15 and Mark Chestnut when he was 16 at the Austin Music Hall and that's
when Stetson started playing professionally lead guitar for Country, Rock, & Blues music.
He also joined a Metal band for a week while attending high school until they kicked him
out for playing Roy Clark licks.Stetson is currently on a radio tour with his Debut Single, 'Say Hello To Goodbye'.