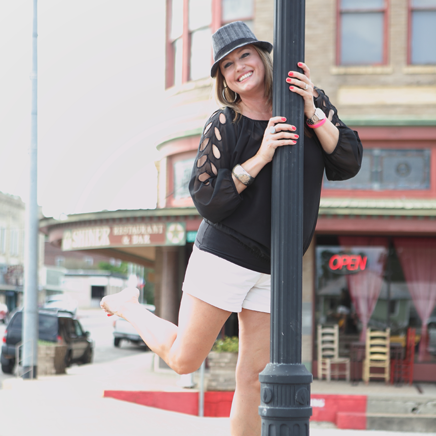 Laura – Middays
MEET LAURA KREMLING! THE FUN, LOUD, AND KORKY AFTERNOON PERSONALITY ON TEXAS THUNDER RADIO. LAURA GOT HER START IN RADIO WORKING FOR STEVE COFFMAN AT HIS NEW STATION, TEXAS RADIO, IN HALLETTSVILLE, TX. SHE STARTED AS A SECRETARY, MOVED TO SALES & PROMOTIONS AND EVENTUALLY TO ON AIR AND HASN'T LOOKED BACK! SHE WAS PART OF THE TEAM THAT STARTED THE "TEXAS MIX 98.7" IN VICTORIA AND EVENTUALLY FOUND HERSELF BACK IN THE BIG TOWN OF HALLETTSVILLE. SHE TOOK OVER DUTIES AS THE GENERAL MANAGER FOR TEXAS THUNDER RADIO AND IN 2008, BECAME ONE OF THE FEW INDIVIDUALS TO OWN THEIR OWN RADIO STATION. LAURA IS THE OFFICIAL VOICE OF THE TEXAS STATE CHAMPIONSHIP FIDDLERS FROLICS, AND HAS BEEN A GUEST SPEAKER FOR AREA CLUBS LIKE THE HALLETTSVILLE ROTARY CLUB AND VARIOUS CHILDREN'S GROUPS. SHE HAS MC'ED EVENTS LIKE THE RELAY FOR LIFE, THE HALLETTSVILLE CHAMBER BANQUET, NUMEROUS PARADES IN THE AREA, PLUS MUCH MORE. SHE HAS INTERVIEWED STARS FROM THE LEGENDARY JOHNNY LEE, TO COUNTRY GREATS LIKE RESTLESS HEART, SHE'DAISY, LUCY ANGEL, AND TEXAS MUSIC ARTIST LIKE PAT GREEN, KEVIN FOWLER, ROGER CREAGER, EVEN COMEDIAN BILL ENGVALL.
IN HER SPARE TIME, SHE ENJOYS LONG WALKS ON THE BEACH, ONLY WITH A DRINK IN HER HAND, ANY LIVE MUSIC VENUE, AND BEING AROUND LOTS OF PEOPLE. HER FAVORITE BAND IS NICKELBACK. HER FAVORITE COUNTRY SINGER, WHO SHE CLAIMS IS "HER NEXT HUSBAND, HE JUST DOESN'T KNOW IT YET!" KEITH URBAN. AND THE BEST CONCERT SHE'S EVER SEEN IS JUSTIN BEIBER. SHE THINKS SHE CAN DANCE JUST LIKE HIM!
HER PASSION FOR MUSIC AND HAVING FUN IS A DEADLY COMBINATION ON THE RADIO. MEET HER WEEKDAY AFTERNOONS FROM 12-3 ON TEXAS THUNDER RADIO OR ANYTIME ON DEMAND HERE!
SEND LAURA A MESSAGE!