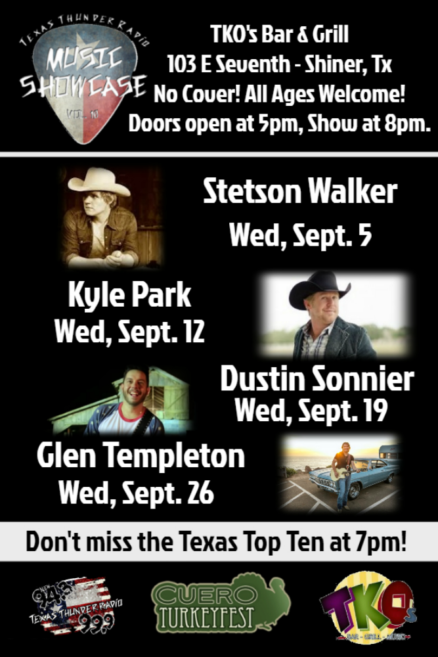 Kyle Park | TTRMS
Date:

September 12, 2018

Time:

20:00

Location:

Shiner, TX

Venue:

TKO's Bar-Grill-Music – 103 E Seventh
We invite you to join us for the Texas Thunder Radio Music Showcase, at TKO's Bar and Grill, 103 East Seventh in Shiner. There's no cover charge. All ages are welcome. Doors open at 5:00pm, show begins at 8:00pm.
The #TTRMS live radio show is proudly brought to you by Cuero Turkeyfest, always the second weekend of October. For additional showcase and artist information visit the Texas Thunder Radio Music Showcase Page.
KYLE PARK
Wednesday, September 12th – 8:00 PM
Thirteen years into his professional career, Kyle and his band have played in more than five countries, playing shows from Alaska to Germany, and frequenting more than a dozen states on a regular basis. Kyle's latest project, his sixth studio album Don't Forget Where You Come From was produced by Park and boasts nine original tracks written or co-written by Park, along with one cover tune.Kyle has worked hard to develop himself as a writer and a producer, making regular trips to Nashville for writing sessions and producing music for other artists as well as his own. With six records under his belt, it's safe to say that there is plenty more to come down the road.