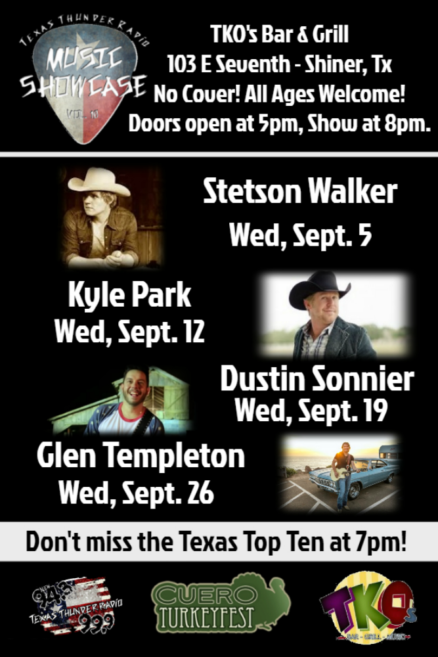 Glen Templeton | TTRMS
Date:

September 26, 2018

Time:

20:00

Location:

Shiner, TX

Venue:

TKO's Bar-Grill-Music – 103 E Seventh
We invite you to join us for the Texas Thunder Radio Music Showcase, at TKO's Bar and Grill, 103 East Seventh in Shiner. There's no cover charge. All ages are welcome. Doors open at 5:00pm, show begins at 8:00pm.
The #TTRMS live radio show is proudly brought to you by Cuero Turkeyfest, always the second weekend of October. For additional showcase and artist information visit the Texas Thunder Radio Music Showcase Page.
GLEN TEMPLETON
Wednesday, September 26th – 8:00 PM
In 2008 GT was hand picked by Conway Twitty's daughters to portray Conway in the touring musical tribute to their father. They first heard about Glen through Joni Twitty's husband, John Wesley Ryles. Ryles, a noted studio background vocalist, had worked with Glen on demo projects. "With more than 20,000 hopefuls auditioning for the part, Joni Twitty finally found a powerful voice capable of conveying many of the same qualities Conway had."Glen has shared the stage with a number of other country music artists as well. In his early Nashville days, he worked the clubs down on lower Broadway. At the world famous Tootsie's, it wasn't uncommon for an "A List" star to hop up on stage to do a few songs with Glen and the band.After earning a reputation as one of the best singer-songwriters to play the shotgun bars and honkytonks in Nashville, Glen was recruited by Mike Murphy, owner of Cowboy's Dancehall clubs in Texas. He toured the circuit playing to several thousand people each weekend for his own shows and was the opening act for a number of top names in country music.From producers, studio musicians and music industry vets to country radio and its listeners, Glen Templeton has set out to impress and inspire.  No bells, no whistles–just straight down the pipe–Glen is genuine in his performance; his studio recordings translate as undeniably and absolute as his live stage show.