The Flood Warning continues for the Guadalupe River Near Bloomington affecting Calhoun, Refugio, and Victoria Counties. Rainfall earlier this week upstream and over the area will keep the aforementioned river above flood stage for the next few days.  For the latest river stages and forecasts visit: https://txthunderradio.com/river/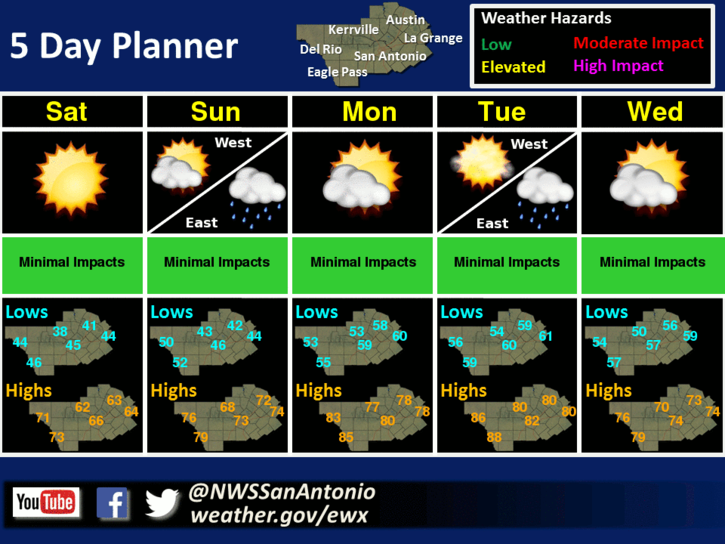 Behind a cold front, temperatures will drop to near normal on Saturday. A warming trend with increasing moisture will begin on Sunday and continue through Tuesday. An upper level disturbance will generate isolated showers and thunderstorms Sunday into Sunday night. Isolated showers are also possible on Tuesday across the eastern areas.
Now here's your TTR Weekend Weather Forecast –
Today: Partly cloudy in the morning then clearing. Patchy fog early in the morning. Highs in the lower 80s. West winds 5 to 10 mph shifting to the north 10 to 15 mph in the afternoon.
Tonight: Cooler, clear. Lows in the mid 40s. North winds 5 to 10 mph.
Saturday: Cooler, sunny. Highs in the mid 60s. Northeast winds 10 to 15 mph.
Saturday Night: Clear. Lows in the upper 40s. East winds 5 mph.
Sunday: Partly cloudy with a slight chance of showers in the morning, then mostly cloudy with a slight chance of showers and thunderstorms in the afternoon. Highs in the mid 70s. Southeast winds 10 to 15 mph. Chance of rain 20 percent.
Sunday Night And Monday: Mostly cloudy with a 20 percent chance of showers. Lows in the lower 60s. Highs in the upper 70s.
Have a great weekend!