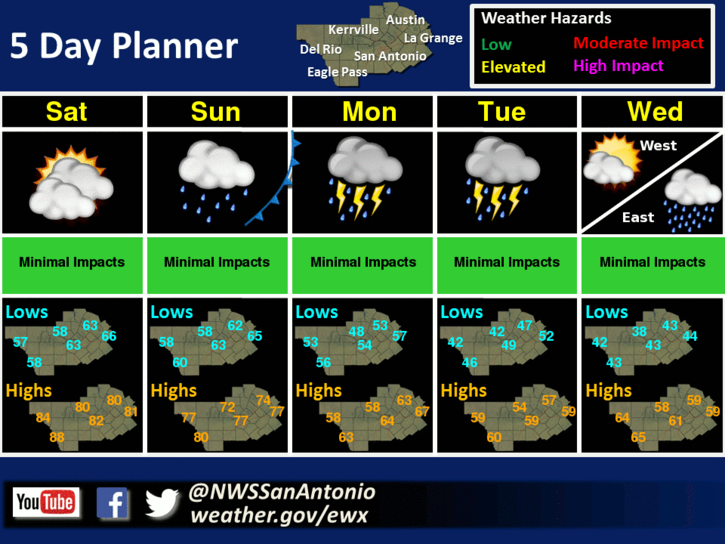 Above normal temperatures are expected Saturday and Sunday. A cold front will bring some light showers as it moves across South Central Texas midday to afternoon on Sunday. Periods of showers and thunderstorms are expected Sunday night through Tuesday night with a potential for heavier rains as an upper level storm system approaches. The system will move off to the east with rains ending on Wednesday. Below normal temperatures are expected Monday through Wednesday.
Now, here's your TTR Weekend Weather from the National Weather Service in Austin – San Antonio:
Today
Mostly cloudy with a 20 percent chance of showers. Highs in the mid 70s. Southeast winds 10 to 15 mph.
Tonight
Warmer, cloudy. Slight chance of sprinkles. Lows in the mid 60s. South winds 10 mph.
Saturday
Mostly cloudy. Slight chance of sprinkles. Highs in the lower 80s. South winds 10 to 20 mph.
Saturday Night
Mostly cloudy. Lows in the mid 60s. South winds 10 to 15 mph.
Sunday
Mostly cloudy. Slight chance of sprinkles. Highs in the upper 70s. South winds 5 to 10 mph shifting to the east in the afternoon.
Sunday Night
Cloudy with chance of showers and slight chance of thunderstorms. Lows in the upper 50s. Chance of rain 40 percent.
The state has not seen much rain over the past two weeks and there have been periods of accelerated drying followed by short periods of higher dewpoints and higher Relative Humidity. Most of the fire activity on the 7 day map occurred early last week during a period of accelerated drying. We have seen a pause in fire occurrence since Thursday when cooler air and increased surface moisture moved into the state. The next 7 days will see dry air expanding across the state from west to east starting Monday. Surface fuels will quickly dry with the warm dry air.
In Texas, local governments are empowered to take action on the behalf of those they serve. When drought conditions exist, a burn ban can be put in place by a county judge or county commissioners court prohibiting or restricting outdoor burning for public safety. Locally, a Burn Ban is in effect for all of De Witt County, Texas.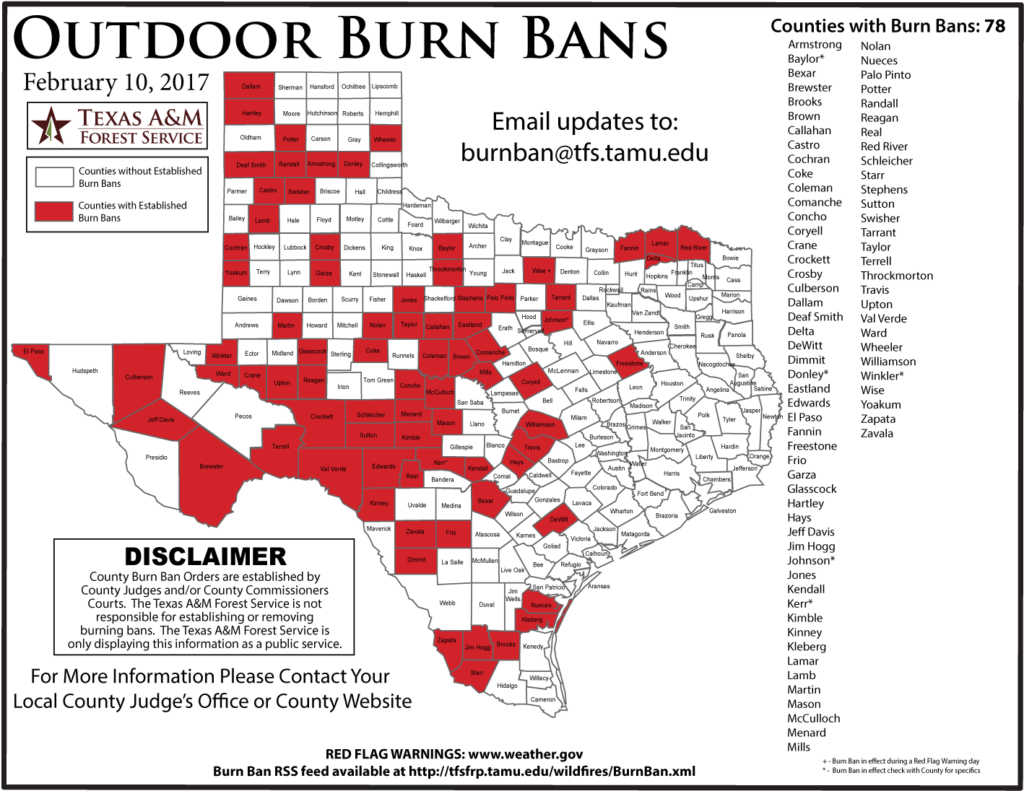 Have a great weekend,
TTR