TGIF! But a wet one. Today – look for one storm system over the area to continue to push east. Some areas  got a good 0.25 to 0.5 inches of rain with higher amounts along the coast. Saturday – High temperatures in the low 80s.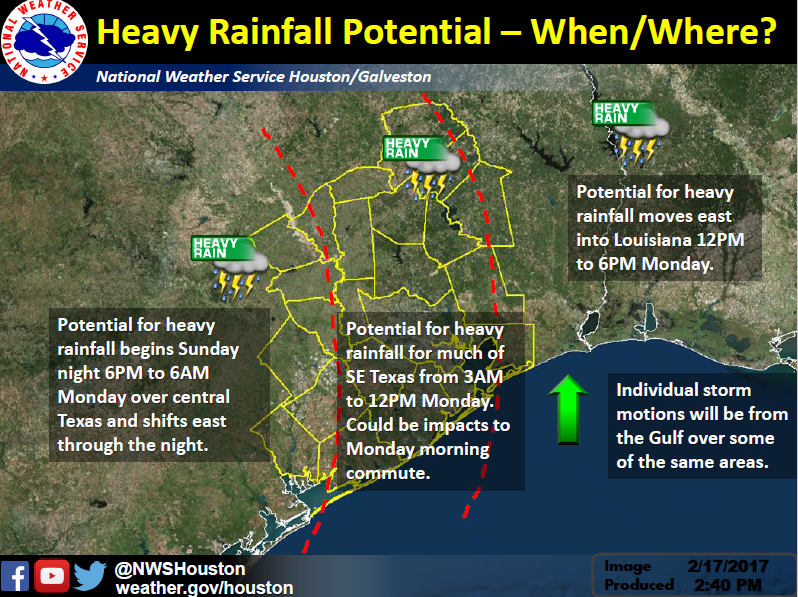 Heavy Rainfall Potential – overall not much change in the overall thinking from previous forecast.
Timing – 6PM Sunday to 6PM Monday. Possible for some lingering rain Monday night but not heavy.
Locations – Over much of SE Texas but largely depends on where axis of higher moisture is located. This could end up being east of the area so still low/medium confidence on location of heavy rainfall.
Rainfall Amounts – overall 2 to 4 inches in this 24 hour period with isolated higher amounts. Still hard to pinpoint what those isolated higher amounts may be. Higher amounts will be embedded within axis of higher moisture.
Impacts – still the potential for minor river flooding and rapid increases on area bayous. Street flooding possible in low lying areas. Flash flooding looks possible but will depend on how quickly rainfall occurs.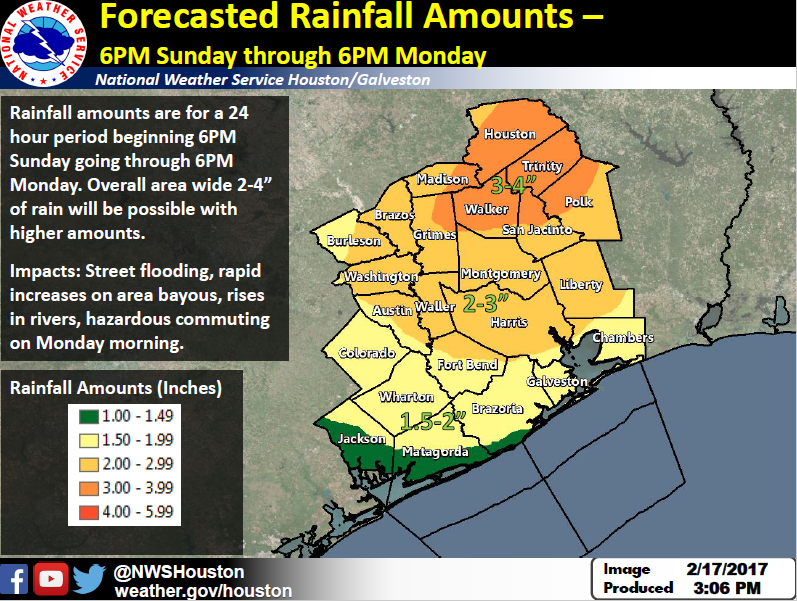 Links
NWS Houston/Galveston Webpage: www.weather.gov/houston
West Gulf River Forecast Center: https://www.weather.gov/wgrfc/
AHPS Webpage: https://water.weather.gov/ahps2/index.php?wfo=hgx
Forecasters – Scott Overpeck, Wendy Wong
National Weather Service
Houston – Galveston, Texas