A strong storm system will approach the area Sunday night. This system will bring periods of showers and thunderstorms. Some of the rain could be heavy Sunday night into Monday morning.

Changes: Timing has changed. The system remains progressive and showers and thunderstorms could start as early as mid Sunday afternoon with a bulk of the rainfall occurring Sunday night into early Monday morning.
What: Heavy rain event with some potential for excessive rain that could lead to flooding.
Where: All of Southeast Texas but latest model consensus is focusing the heavier rain north and east of the Houston metro area.
When: The potential for heavy rain is greatest Sunday night into early Monday.
Primary Hazard:  Heavy rain/flooding.
Secondary Hazard:   Frequent lightning.
Confidence:  Moderate.  Timing differences between models and now some significant differences between the models on the geographic placement of the highest rainfall.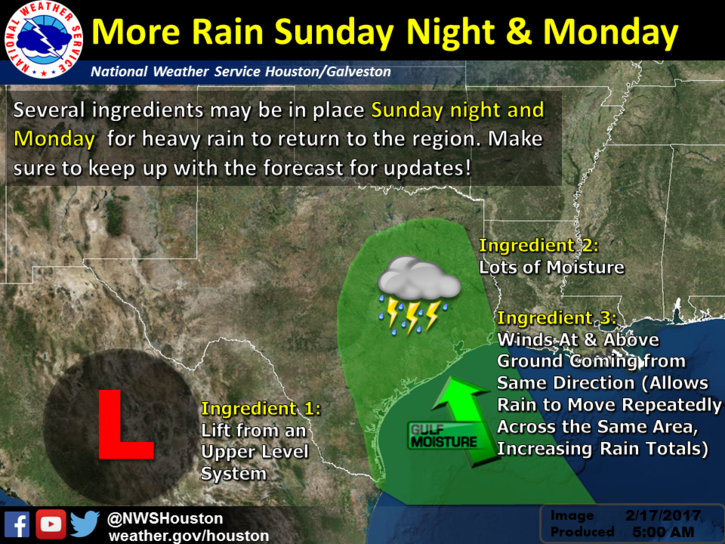 Links
NWS Houston/Galveston Webpage: www.weather.gov/houston
West Gulf River Forecast Center: https://www.weather.gov/wgrfc/
AHPS Webpage: https://water.weather.gov/ahps2/index.php?wfo=hgx
Charles Roeseler and Paul Lewis
NWS Houston – Galveston