There is a possibility for strong, possibly severe, thunderstorms very early Tuesday morning across the Rio Grande Plains and again later Tuesday morning/early afternoon across the Northern Coastal Bend and Victoria Crossroads areas. This is currently a lower than average confidence forecast in terms of cold front timing on Tuesday. An earlier/quicker cold front passage than currently expected may greatly reduce the strength of any storms that develop Tuesday, thus greatly limiting the severe thunderstorm threat. Heavy rainfall will also be a factor with this system north and east of Highway 281 Tuesday.
Timing and Overview:
Stronger storms may develop across portions of the Edwards Plateau Monday and move into portions of the Rio Grande Plains very early Tuesday morning. Meanwhile, a cold front moving in from the west later Tuesday morning may allow more strong to possibly severe thunderstorms to develop as it crosses the Coastal Bend. Please see the cold front timing image below for our areas of greatest concern in South Texas. As stated before, timing for the cold front is lower than average confidence at this time. It may take until later Monday to be able to provide a more concrete timing and impacts from its passage. Please stay tuned.
South Texas Impacts:

Tornadoes:  Isolated tornadoes possible across the Coastal Bend and Victoria Crossroads areas.

Winds:  Strong to possibly damaging winds. In excess of 50 to 60 mph.
Hail:  Isolated 1″ hail possible.
Rainfall:  Less than 0.5 inches south to 1-1.5 inches across Victoria Crossroads possible. Most of this rain could fall in a very brief amount of time.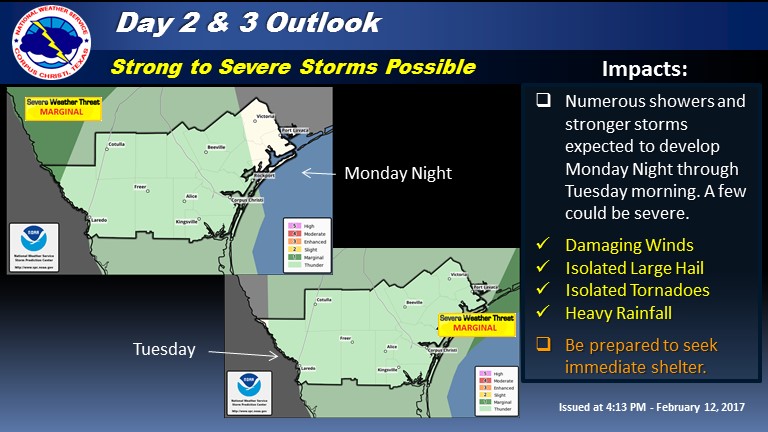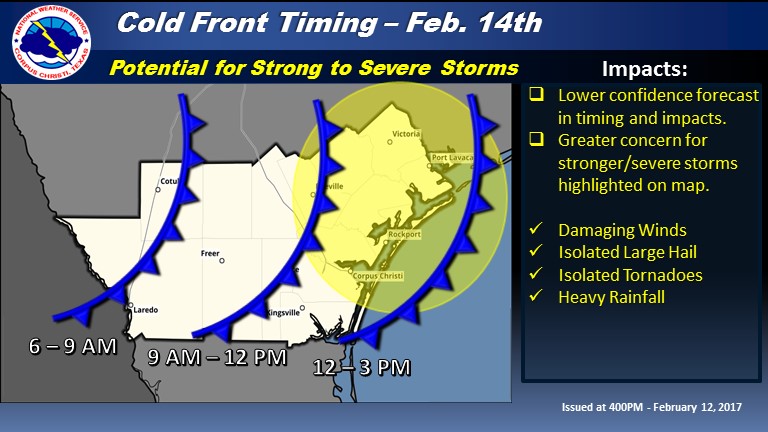 Additional Information Resources:
NWS Corpus Christi Webpage:  www.weather.gov/corpuschristi 
Storm Prediction Center:  www.spc.noaa.gov/
Online Severe Weather Reporting:  https://www.srh.noaa.gov/StormReport/SubmitReport.php?site=crp
Sincerely,
Greg Heavener
NWS Corpus Christi, TX