…Freeze WATCH and Wind Chill Advisory for ALL of South Texas Tonight/Saturday Morning…

…No Winter Precipitation is Expected…
Briefing:
Cold conditions will prevail today across South Texas. Temperatures will fall into the 30s this morning and likely fail to reach 40 degrees during the day. The cold temperatures, along with brisk and gusty north winds, will result in wind chill values this morning lowering to 20 to 25 degrees across the Northern Coastal Bend. Elsewhere, wind chills will likely lower into the upper 20s to around 30 degrees…with only minor improvement occurring this afternoon.
Cold conditions are expected tonight. A Wind Chill Advisory is in effect for all of South Texas tonight into Saturday morning with minimum wind chill values of 15 to 25 degrees expected. A Freeze Watch is also in effect for of South Texas tonight and Saturday morning. Temperatures are expected to fall into the mid to upper 20s across inland counties (around 30 degrees for Laredo). The coastal counties can expect a brief light freeze around 30 degrees to the lower 30s (warmest along the coast).
Areas of light rain and drizzle may occur today, especially this morning. At this time, no wintry precipitation of significance is expected today. However, an isolated sleet/ice pellet may occur across the area, but impacts should be nil.
An additional round of freezing temperatures are expected for inland areas Saturday Night into Sunday Morning.
Small Craft Advisories continue for all marine areas. Marine wind speeds may temporarily decrease in intensity this afternoon, but quickly restrengthen this evening to levels slightly stronger than what were experienced early this morning. A few gusts to gale force may occur tonight across marine areas.
South Texas Impacts:

Wind Chills:

Values lowering to 20 to 25 degrees this morning across the Northern Coastal Bend.
Values in the upper 20s to around 30 degrees elsewhere.
Only minor improvement expected this afternoon.
Values lowering to 15 to 25 degrees tonight into Saturday morning.

Freezing Temperatures:

Freeze Watch for all of South Texas tonight into Saturday morning.
Lows mid to upper 20s across inland counties (around 30 degrees for Laredo).

Lows around 30 degrees across coastal counties (around 32 along the coast).

Wintry Precip:

Likely none.
One or two ice pellets mixed in with light rain and drizzle.
No wintry precip impacts are expected at this time.


Marine Conditions:

North winds around 25 knots, gradually weakening some this afternoon.
Restrengthening wind speeds tonight to 25 to 30 knots.
 Few gusts to gale force possible tonight.
Bays rough to occasionally very rough, especially this evening and overnight.
Seas 7 to 10 feet with locally higher seas possible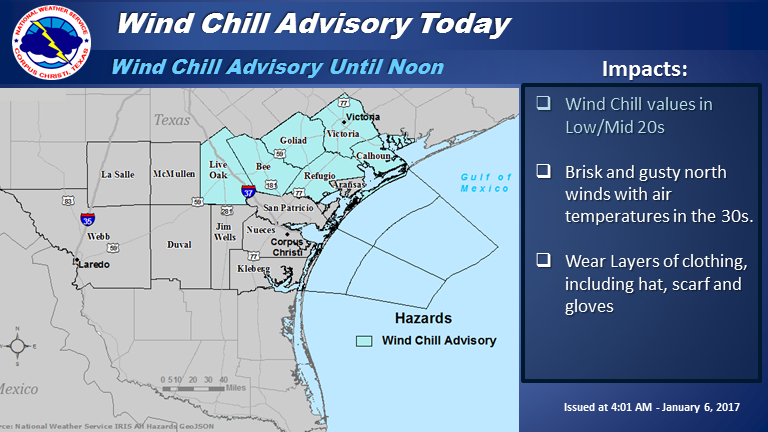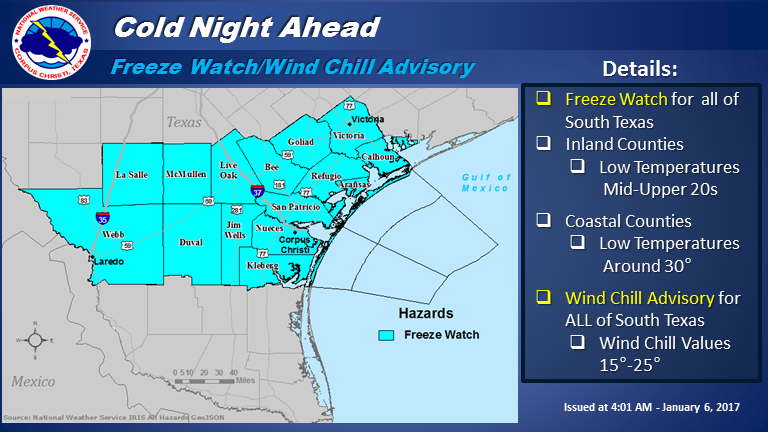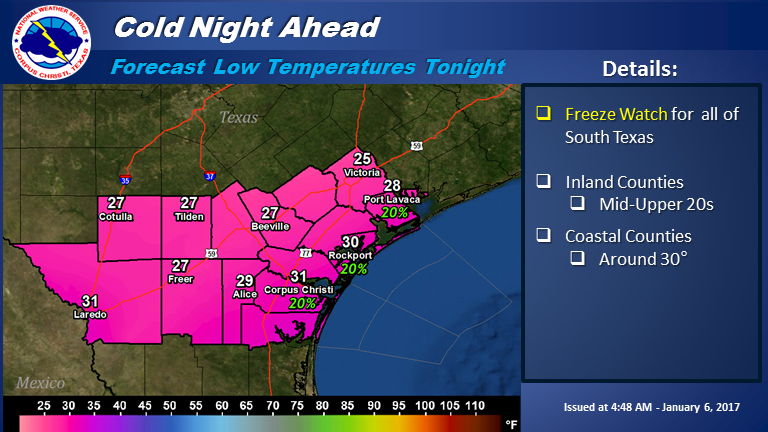 Additional Information Resources:
NWS Corpus Christi Webpage: www.weather.gov/crp/
Sincerely,
Rob Hart
Forecaster
NWS Corpus Christi, TX