Here is a brief update regarding severe thunderstorm potential for parts of the region this afternoon through tonight, with best chances for severe weather roughly along and south of the Highway 59 corridor.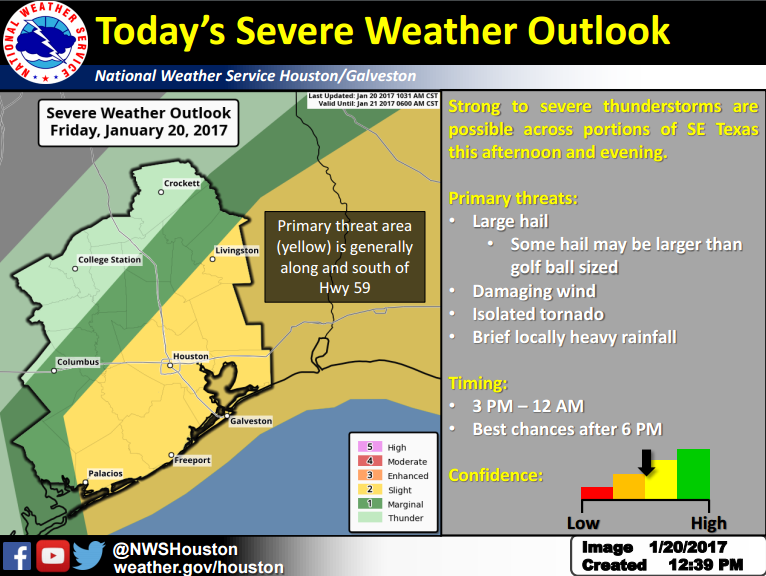 Changes Since Last Briefing
Minor updates to timing for the severe thunderstorm threat window, forecast rainfall amounts, and the addition of a threat for large hail.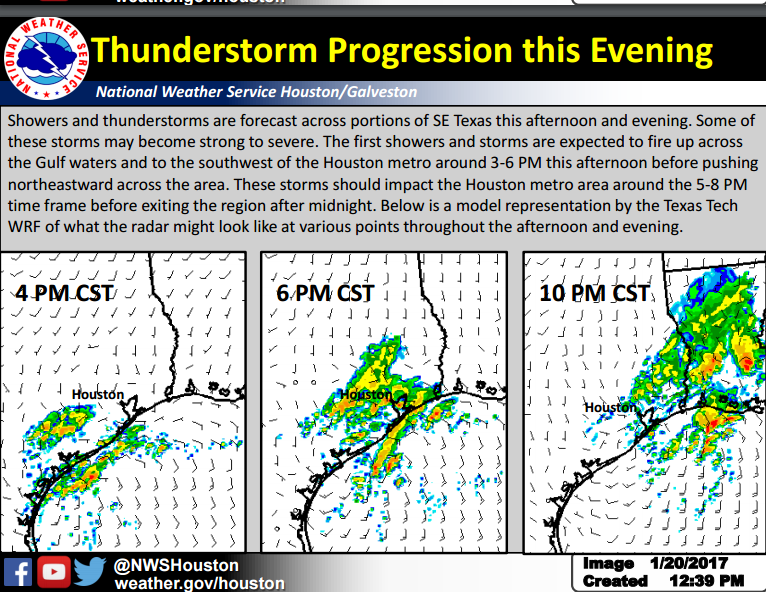 Overview 
The radar is expected to remain quiet through early afternoon, with storms expected to develop southwest of the Houston metro between 3-6 PM. Additional thunderstorms are expected to develop and move across Houston in the 5-8 PM time frame, with the bulk of the thunderstorm activity clearing the region 12 – 2 AM Saturday. Scattered showers and possibly a thunderstorm are expected during the day on Saturday, but severe weather and flooding is not anticipated. Rain chances will end Saturday night/early Sunday morning as a cold front sweeps across Southeast Texas, with Wind Advisories likely needed behind the front with sustained northwest winds 20-30 MPH and stronger gusts to 40 MPH.
Hazards
The primary threats from thunderstorms this afternoon-tonight will be large hail (with the potential for large than golf ball sized hail) and damaging winds. Secondary threats will include brief heavy rainfall. An isolated tornado or two cannot be ruled out, mainly along the immediate coast.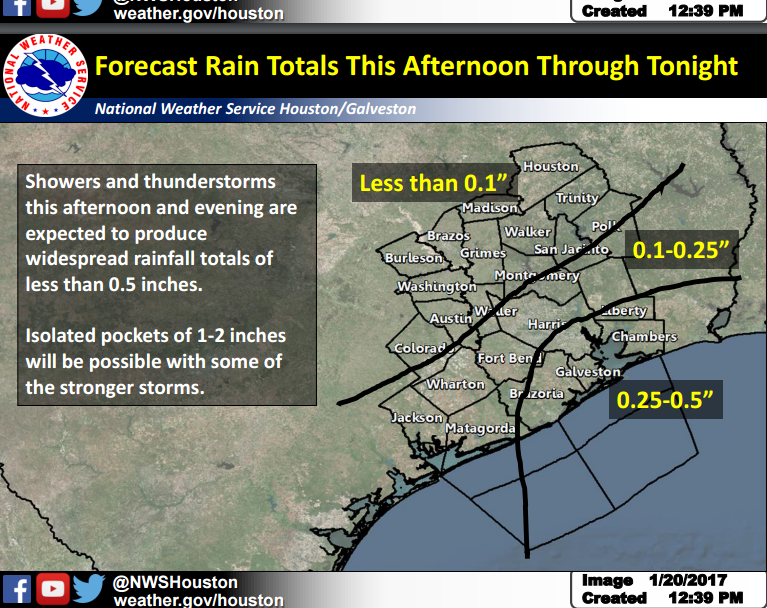 Hydrology
Widespread flooding is not anticipated with this afternoon-tonight's rain as storms will be moving very quickly. However, stronger cells will be capable of producing localized 1-2 inch amounts that may create minor street flooding issues or rapid rises on bayous/creeks.
Links
NWS Houston/Galveston Webpage: www.weather.gov/houston
AHPS Webpage: https://water.weather.gov/ahps2/index.php?wfo=hgx
Melissa Huffman, Molly Merrifield, & Josh Lichter
National Weather Service Houston/Galveston