…Wind Chill Advisory for Northern Coastal Bend Tonight through Friday Morning…

…No Winter Precipitation is Expected…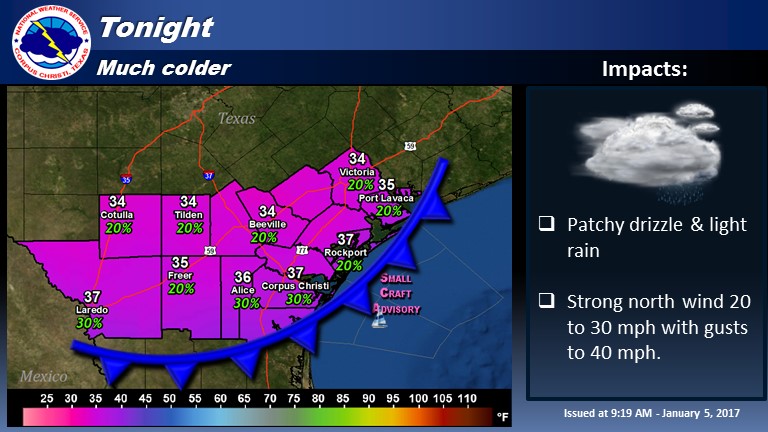 A strong cold front will move through South Texas early this evening ushering in a very cold air mass which will persist into the weekend.  Temperatures will drop into to mid to upper 30s across most of South Texas overnight with gusty north winds and wind chill values in the 20s.  A Wind Chill Advisory has been issued for the Northern Coastal Bend for Tonight through Friday Morning, and this may need to be expanded farther south to include the entire Coastal Bend. Small craft advisory conditions are expected over all marine areas where wind gusts to gale force will be possible.  High temperatures on Friday will hold steady in the upper 30s to around 40 degrees with patchy light rain and drizzle. Atmospheric temperatures will not be cold enough for winter precipitation. Temperatures will remain chilly through the weekend with highs Saturday in the mid-upper 40s and highs Sunday in the mid to upper 50s.
South Texas Impacts: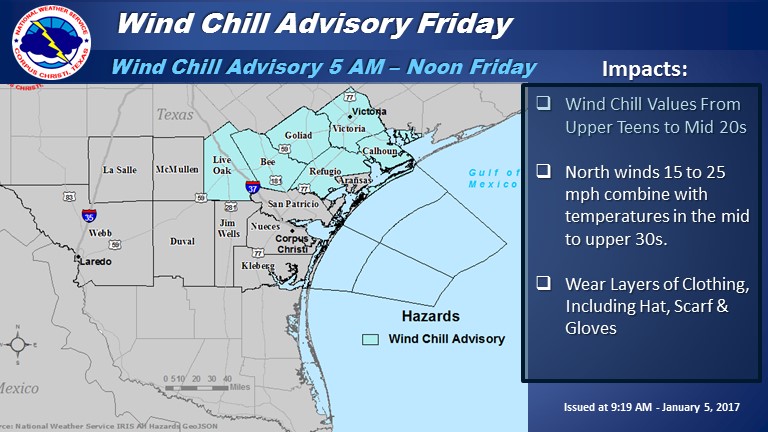 Wind Chills: Wind chill values will range from the upper teens to lower 20s across the northern Brush Country and Victoria Crossroads area late tonight through Friday morning.  Wind Chills in the mid to upper 20s can be expected across the southern Coastal Bend and Coastal areas.  To stay warm, wear several layers of clothing, including hat, scarf and gloves.
Wind Speeds:  Strongest winds will be observed along the Coast where North winds of 20 to 30 mph with gusts 35 to 40 mph will be possible Tonight through Friday.
Marine Conditions:  North winds increasing to 25 to 30 knots after midnight Tonight and persisting through Friday. Gusts to gale force possible.  Bays will be Choppy to Rough.  Seas building to 6 to 8 feet offshore with occasional seas up to 10 feet.  Winds and seas gradually diminishing on Saturday. Small Craft Advisories are in effect for Tonight through Friday Night.
Additional Information Resources:
NWS Corpus Christi Webpage: www.weather.gov/crp/
Sincerely,
John
NWS Corpus Christi, TX