…A Fire Weather Watch is in effect for South Texas from Late Morning Sunday through Sunday Afternoon… 
…A Gale Watch is in effect for the Bays and Middle Texas Coastal Waters from early Sunday Morning through Sunday Evening…
Timing and Overview:
A cold front is expected to move across the region Saturday night with a strong to very strong northwest wind developing in its wake Sunday. The strong wind combined with very low relative humidity will lead to critical fire weather conditions across South Texas. In addition, In addition, gale force conditions are expected across the bays and coastal waters Sunday. As a result, a Fire Weather Watch and Gale Watch are in effect for South Texas and the Middle Texas Coastal Waters, respectively.
Forecast:
South Texas Impacts:

Wind:  West to northwest wind 20 to 35 mph with frequent gusts 40 to 50 mph. However, the potential exists for greater sustained wind speed and gust magnitudes.

Humidity:  Minimum relative humidity values of 15 to 20 percent over the Rio Grande Plains to 25 to 35 percent over the Coastal Bend and over the Victoria Crossroads.
Impacts:   Any fires that develop will likely spread rapidly.  Extreme resistance to control efforts will occur over the Rio Grande Plains.  Substantial resistance to control efforts will occur over the Coastal Bend and Victoria Crossroads.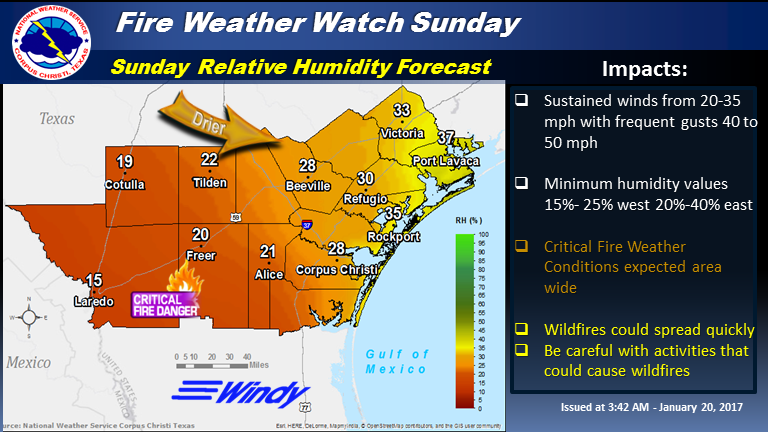 Marine Impacts:

Wind:  Northwest 25 to 30 knots with frequent gusts to gale force across bays and nearshore waters and sustained gale force winds across offshore waters. Brief gusts to storm force will  be possible across offshore waters.

Seas/Bays:  Bays rough to occasionally very rough. Seas building to 6 to 8 feet nearshore and 9 to 11 feet offshore.
Impacts:  Operating a vessel in gale conditions requires experience and properly equipped vessels. It is highly recommended that mariners without the proper experience seek safe harbor prior to the onset of gale conditions.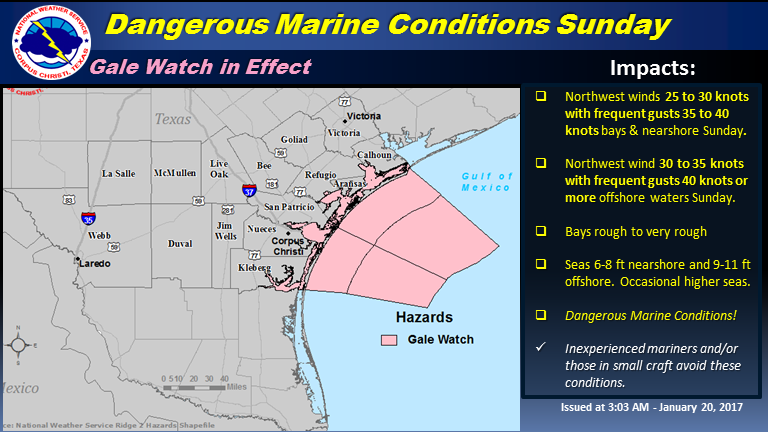 Additional updates will be emailed as staffing/time permits.  Please reference the additional resources below for more information.
Additional Information Resources:
NWS Corpus Christi Marine Webpage:  https://www.weather.gov/crp/marine