…Wind Chill WARNING for Northern Coastal Bend, Victoria Crossroads and Brush Country 3 AM-9 AM Saturday…

…Wind Chill Advisory all of South Texas through Noon Saturday…

…Freeze Warning Tonight/Saturday AM…

…Freeze Watch Tomorrow Night…
…No Winter Precipitation is Expected…
Briefing:
Cold temperatures and gusty winds will continue through the next 18-24 hours across South Texas. Temperatures this afternoon remain in the mid 30s with breezy north winds. Temperatures will begin to decrease this evening with winds continuing. This will lead to wind chill values between 15 and 25 degrees ongoing through the evening and into tonight. Wind chill values below 15 degrees are possible for portions of the area in the late night and early morning hours.
Freezing temperatures are also likely for all of South Texas tonight. Expect low temperatures in the mid and upper 20s for much of the area. Along the immediate coast, temperatures will drop into the lower 30s with a brief freeze possible. An additional round of freezing temperatures are expected
Saturday
 Night into 
Sunday
 Morning.
Any light rain/drizzle should come to an end late this afternoon. No freezing precipitation is expected.
Small Craft Advisories continue for all marine areas. Marine wind speeds may temporarily decrease in intensity this afternoon, but quickly restrengthen this evening. A few gusts to gale force may occur 
tonight
 mainly over the offshore waters.
South Texas Impacts:

Wind Chills: 

Values 15 to 25 degrees from this afternoon through 

Saturday

 morning.
Values 10 to 15 degrees between 3 and 9 am for Duval, Jim Wells, Live Oak, San Patricio, Bee, Refugio, Aransas, Goliad, Victoria, and Calhoun counties.

Freezing Temperatures:

Freeze Warning for all of South Texas 

tonight

 into 

Saturday

 morning.
Lows mid to upper 20s  (around 30 degrees for Laredo and along the coast).
Freeze Watch Saturday night into Sunday morning
Lows mid to upper 20s  (around 30 degrees for Laredo and along the coast).
Marine Conditions:

North winds restrengthening 

tonight

 to 25 to 30 knots.
Few gusts to gale force possible 

tonight

.
Bays rough to occasionally very rough, especially this evening and overnight.
Seas 10 to 12 feet with locally higher seas possible.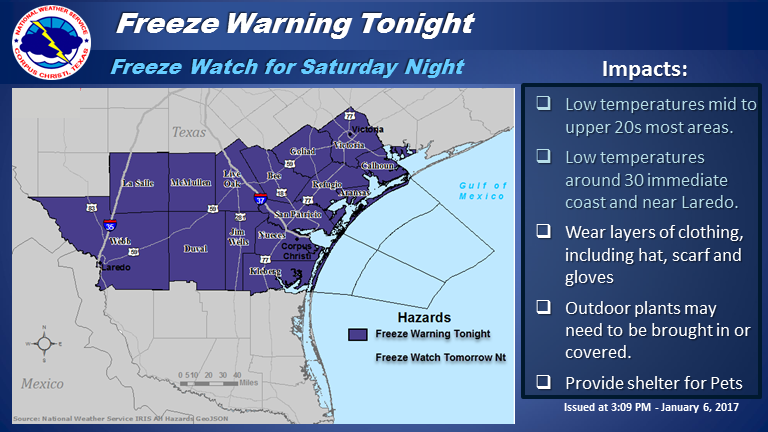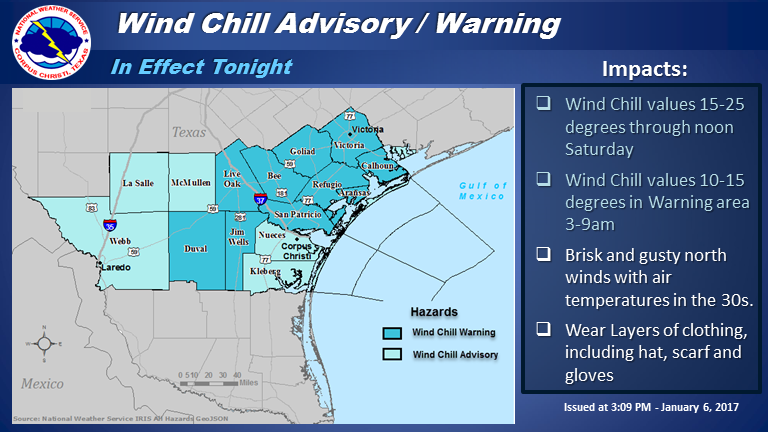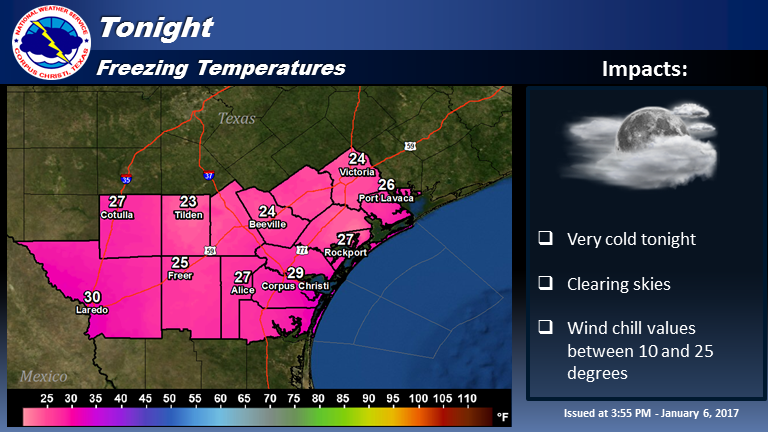 Additional Information:
NWS Corpus Christi Webpage: www.weather.gov/crp/
Sincerely,
Penny Zabel
Forecaster
NWS Corpus Christi, TX