…Freezing temperatures possible Saturday morning and likely
Sunday morning over inland portions of South Texas…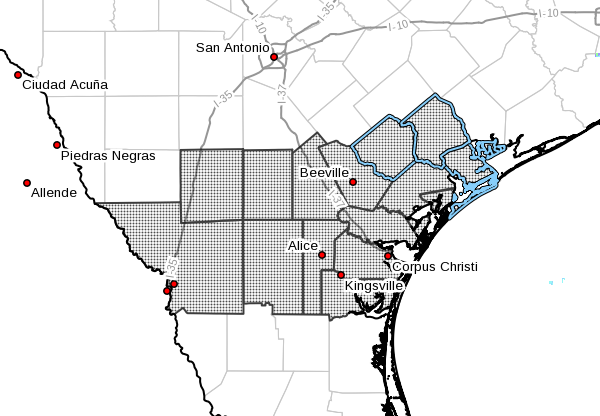 A cold arctic airmass will begin to overspread South Texas
tonight behind a strong cold front. Gusty northerly winds will
continue through Friday night pushing even colder air in and
allowing temperatures to drop to near freezing over some inland
sections…especially over the Northern Brush Country, Northern
Coastal Bend and Victoria Crossroads area. A freeze warning will
likely be needed by Friday afternoon for portions of South Texas.
On Saturday night winds will weaken slightly and with mostly
clear skies even colder conditions are expected. Nearly all of
South Texas away from the coast will see a freeze, with lows the
mid 20s northern areas to upper 20s and lower 30s southern areas.
Areas near the coast will see lows in the mid 30s Sunday morning.
Another freeze warning will likely be needed for Saturday night
and Sunday morning.
Residents in South Texas are strongly urged to stay tuned to NOAA
weather radio…commercial radio…television…or other forms of
communication for information regarding this upcoming cold weather
event from your National Weather Service Weather Forecast Office
in Corpus Christi Texas.